A Lens with a view to view 3

by Robert A F van de Voort
"I shut my eyes in order to see" - Paul Gauguin
Once we have started to analyse the content of our proposed image a little bit more there are some visual effects that we take for granted, or we are not aware of them. In my previous articles I have mentioned quite a few elements we can look out for or use their characteristics (like colour) to enhance our images.
There are some other obvious laws at play that we do not even think of, or at least I do not think of them. Like the contrast of light against dark or dark against light.
In most cases I just take for granted the effect they have, but if I think about it, did I use my contrasts correctly (and see the remarks below) and would I photograph next time a different way? For instance the contrast of grey against white, or grey against black, which grey would appear in your eyes to be lighter or darker? (without looking at the sample image a little further). I'll think this is an easy one, against a light colour a grey tone will appear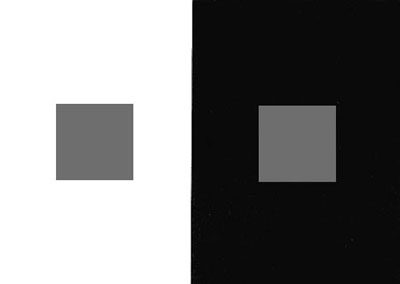 Careful placing of your tonal values in your images will have a different perceptual effect.
Did you know that a brighter part of your image can give the impression to be closer to us then a darker area? The image has to be created with this concept in mind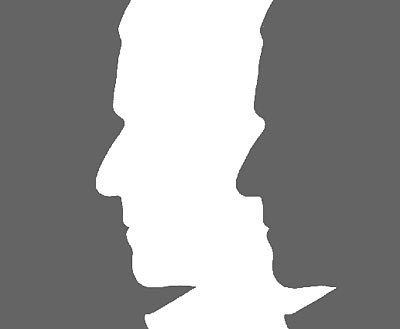 In a similar manner you will probably have experienced the fact that when you take a photograph of some hills in the distance that are covered in mist or fog they seem to be quite far away. Once the mist clears and we can see the hills in the distance clearly they seem to be closer to us. The contrast is higher when there is no mist or fog, because of the increased contrast we tend to assume the objects or landscape is closer to us.
Do we use these ideas to set up our shots when we photograph commercial images?
In most cases I feel it is an automatic function.
On another note, a more personal note, the viewing distance of our images is quite important.
As a general rule of thumb we should look at images on a distance of twice the diagonal of the image we are looking at. So if your images are on average 10 by 12 cm, or four by five inches The viewing distance should be 12 inches approximately or 30 cm. Which is probably quite close to the average reading distance of a magazine or book.
If we know what the average distance is that the viewer will look at our image we can design the photograph. We create the impact that we want to deliver with that image for the viewer to experience. Size is important…J!
If you like to create a very intimate look or feel when you create portrait photography you have to think of the end result. Where and how is the image displayed? If the photograph is displayed on a wall for everybody to see the viewing distance will be different compared to a page in a magazine or book.
I must explain what I mean by any intimate look or feel, and I go back to the start of the photo session in the studio.
When we communicate with other people we have a certain distance from each other in which we communicate. An acceptable social distance between European people is probably about 1.5 m or 2 m away from each other. If you were to approach the other person very close and start talking to them at a distance of about 50 cm away from their face, you both probably would be feeling very uncomfortable. Each human being has a certain amount of space around them that is their personal private space, we should not enter that on a social basis. Different cultures, different people and different situations will influence the distance that we will feel comfortable with. The intimate personal area around a human being is probably less than 70 cm. If we look at each other from within that distance the size of the face is quite big. If two people meet and are madly in love with each other they might be very close to each other at certain times. If they look at each other from such a close proximity, say 20 cms, their face probably will be so large that they can just see the whole face, quite likely they are able to focus on the eyes or... and the rest is all visible by peripheral vision, not sharp but recognisable.
This is what I mean by an intimate look or feel. I am not saying this is the only way to create that look, after all we are photographers and have various ways and means to convey emotions, feelings and intimacy. In order to recreate that intimate feel the photograph has to have a certain size to reflect the original combination of intimacy if you were so close to each other. I would say the portrait should be life-size or bigger when viewed from a close distance, like a book on magazine. I will not ask my editor Brian Curtis to give me a full page photograph to prove my point…The same size photograph would not create that intimate feel when it is hung on a wall in an exhibitionhall where the public can only view the image from a distance of 3 m. or more. In that case the image has to be approx 6 m high to have a similar effect.
At the moment I am just applying the rule of thumb, I am not saying this is the only way to work. I am using these two extreme suggestions to show that the size of the photograph is important when you consider where it is seen and what the viewer can or should experience when they see it.
If you printed the same photograph very small you invited the viewer to come very close to see detail -Thus it could become quite intimate.
I have read that the ultimate intimate space of a photograph is in a publication when the viewer will actually make page contact with the photograph like in a "scratch and sniff" perfume invitation.
Personal space exists in the studio when we take the photographs. We are told "don't touch the model" because that way we can enter the models personal space. This cliche is not always valid, it depends on the situation and understanding between photographer and client. We can avoid entering the model or clients personal space by using a longer lens. That way we can get the intimate look and feel without invading personal space.
Viewing you from a distance (outside tomato range…)
For feedback, express your view - contact me at hotshot@ihug.co.nz
Viewing you next time,
Robert A F van de Voort
---
A Lens With a View to View Articles

1 | 2 | 3

---
About the author: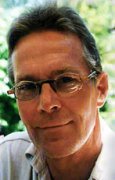 Robert van de Voort is a professional photographer and writer, with his headquarters located on the North Island of New Zealand. Robert's professional photographic career spans the course of over 20 years, with work in stock, advertising, studio, digital photography and much more! You can learn more about Robert and see examples of his stunning work by visiting his website at www.AlbanyStudios.co.nz.
---