Airshow Photo Tips (page 5)
by Tyson Rininger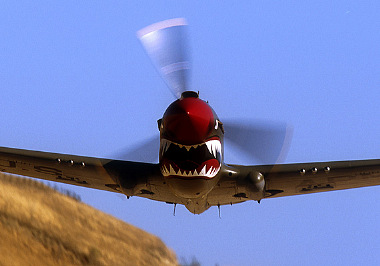 Helicopters and Prop Planes
Remember that shutter speed / focal length rule, not to let your shutter speed drop below the numerical amount of your focal length? With propeller driven aircraft, you may have to break this one. The maximum shutter speed you should use is 1/250 of a second regardless of focal length. By using any speed higher than 1/250, the aircraft's propellers will be frozen and look unnatural. Blurring the props will take practice and consume a lot of film, but the outcome is well worth it. This technique will also require a lot of practice panning with the aircraft.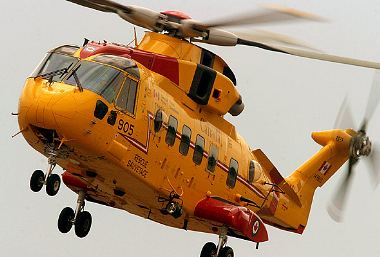 Helicopters are even more difficult to photograph when attempting to achieve this effect. Since helicopter blades are much larger than propellers, they don't rotate at such a high RPM; therefore an even slower shutter speed must be used. I tend to set the camera between 1/60 and 1/125 of a second. Try to support your camera with a tripod or monopod and if that is not possible, use a flight-line fence, barricade or post to do the job.

Most importantly, if you feel the shot's worth getting, take many. Even if you feel as though you were steady as a rock, our natural progression of movement when depressing the shutter button is to dip the front of the camera. Even pros with many years of experience have to throw out images because of this phenomenon. And while we're on the topic…you are supporting the lens with your other hand, right? This will help fight against possible movement during exposure.

Most of all…Have Fun!
Go with friends and family, enjoy the atmosphere and don't be afraid to look around. There are many other things to be seen while everyone else has their eyes glued to the sky.
Page: <prev | 1 | 2 | 3 | 4 | 5

---
About the Author:
Tyson Rininger is a professional photographer based in Central California. Mr. Rininger began photographing when he was just 12 years of age. Since he received his first camera, Mr. Rininger has been chasing action all of his life. Everything from spectacular lightning photographs, to auto racing and of course, air shows are included in his superb portfolio. Mr. Rininger's online photographic galleries can be seen at:
Profotos.com
www.tvrphotography.com


FREE SCHOOL INFO
Select "Photography" under
Program of Study to see
Photo Schools





The Member Galleries at Profotos.com have won many awards and accolades from around the world. Click here to apply for your own Profotos.com gallery.
Check out the galleries of our member photographers and experience an interactive online photography exhibit like no other!